Post on 2021-03-02
How Valuable Is Anterior Segment Analyzer for Anterior Segment Surgeons
For several years, an anterior segment imaging system has been possible, and it has many advantages for anterior segment surgeons to achieve widespread use.
In the front part of the eye, the anterior segment OCT can measure almost everything. You may or may not be able to see far through the angle or behind the iris, depending on the wavelength, so that you can see the different corneal layers in detail, and there are ways to look at the anterior and posterior curvatures of the cornea. For that purpose, when performing different types of corneal surgery involving the endothelium or Descemet's membrane, this technology has great value for an anterior segment surgeon, especially in corneal pathology cases or as a pre-or postoperative method.
Anterior Segment Imaging System in Clinic
Anterior segment imaging system in clinical application for better analysis of the disease and providing professional solutions to clinicians has valuable values; it is used for several purposes:
When having LASIK done, anterior segment OCT is beneficial in determining the quality of the corneal surface and can distinguish an existing LASIK flap from the surrounding tissue. It is a sensitive test for diagnosing forme fruste keratoconus when determining if a patient may be a good candidate for LASIK.
During cataract surgery, anterior segment OCT can help measure the anterior chamber angle area, which aids in better cataract surgery planning for anterior segment surgeons. Additionally, it also provides professional data of total corneal astigmatism, total spherical aberration and corneal membrane irregularity during cataract surgery, giving analysis support for solving spherical lens ametropia astigmatism, spherical aberration, and presbyopia.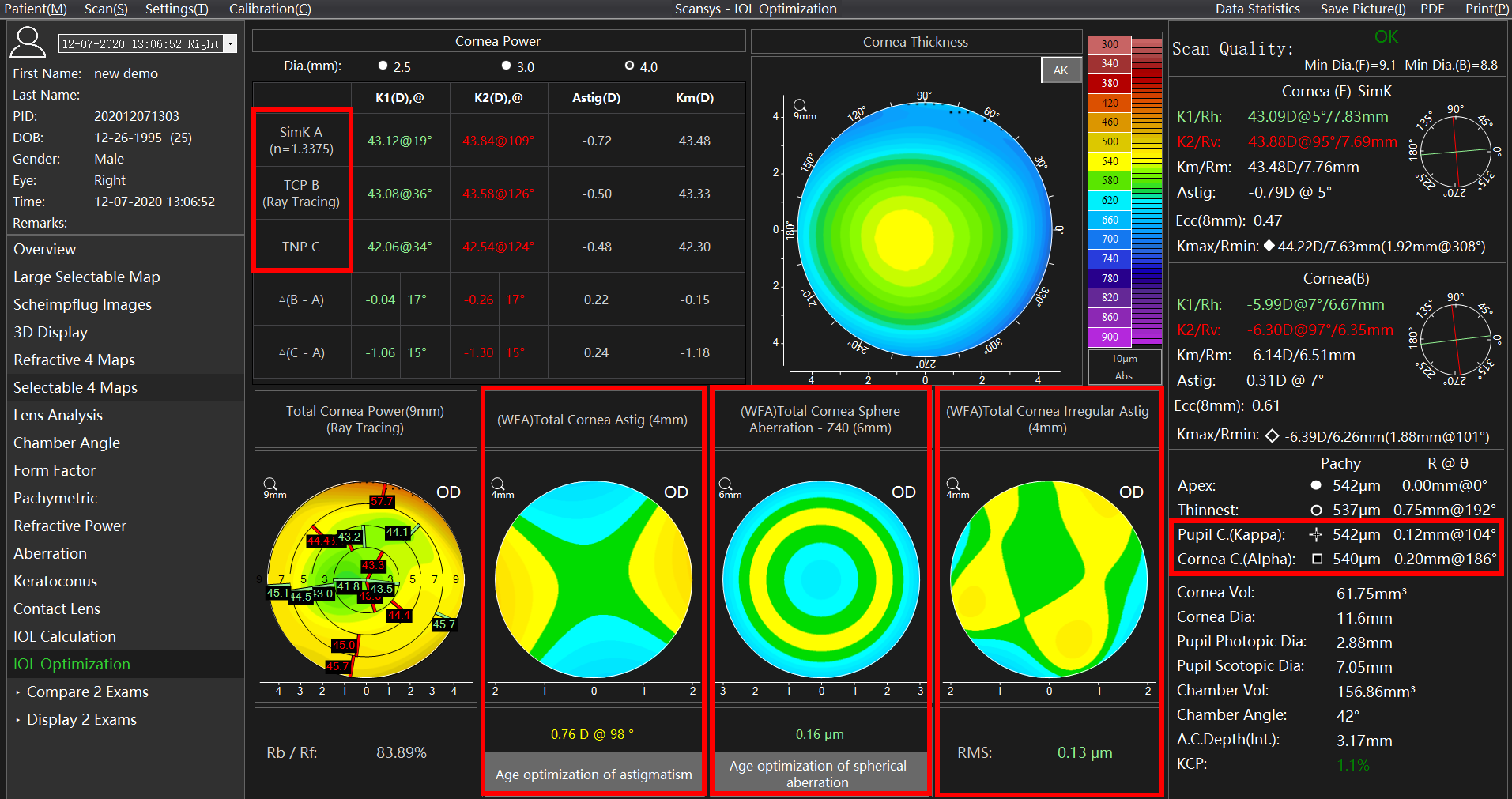 Keratoconus management. Corneal OCT collects comprehensive information about the cornea by combining anterior topography, posterior topography, the epithelial map, and pachymetry. In keratoconus patients, the anterior segment imaging system is also used to monitor corneal thinning. Pachymetry measurements of the cornea are very good for this application. Before performing crosslinking on keratoconus patients, Corneal OCT can be used by anterior segment surgeons to make sure the cornea is thick enough.
When applying the PTK treatment to eye abnormalities such as corneal opacities or irregularities, much of the treatment planning is based on anterior segment OCT, which looks at the epithelial thickness map and opacity depth measurement to see how far into the ablation process epithelial masking is required to get the desired effect.
Anterior corneal curvature and posterior corneal curvature can be distinguished with the anterior segment imaging system. When a patient has had refractive surgery, this can be advantageous when it comes to measuring intraocular lenses. Anterior segment OCT is fast enough to allow the use of corneal map scans to determine topography, astigmatism, and aberrations, which makes it more accurate to measure astigmatism for toric IOLs.
When performing laser procedures on the iris, care must be taken not to damage the ocular tissue. Anterior segment imaging system can help assess angles before and after laser procedures such as iridotomy and iridoplasty, and it can even verify that a laser PI is a patent.
For Education for Patients. The photos taken by anterior segment OCT are extremely useful, especially if they are asymptomatic, for educating patients about their iridocorneal angle anatomy. This better comprehension gives a much-more-informed approval for the operation of angle-closure by laser iridotomy, laser iridoplasty, or cataract extraction.
Tips for Clinical Use
As we went through the values that anterior segment OCT brings to surgeons, there are still some tips for those just beginning to use anterior segment imaging system:
Take advantage of the applications supplied with your tool. Many computers have apps that can help you evaluate images of the previous chapter, which can offer much valuable knowledge that you can not pick up without it.
Perpendicular scale when measuring depth, you can't reliably determine the depth if you section the cornea at an oblique angle. You have to have a segment that is perpendicular. The best way to do so is to have a cross-section of your technician that goes through the middle of the cornea, identified either by the center of the vertex or pupil or by limbal centering. Then a caliper that measures depth perpendicular to the anterior surface is necessary.
Be as perpendicular to the tissue as possible when examining the angle. With the eye facing straight ahead, most surgeons check right through the eye. That will give you a warped vision of the angle, however. When you look at the angle, you want to be as perpendicular as you can be to the tissue. Try multiple locations, so you can get the best picture possible.

Final Thought
It's worth wondering why it's catching on too slowly, considering the benefits of AS-OCT. It's not that anterior segment OCT is not useful for the anterior section. The truth is that surgeons can get gorgeous pictures and extract a lot of valuable details from them; thus, grabbing an anterior segment imaging system is worthy. Here at MediWorks's Scansys TA517 is the right hand for anterior segment surgeons for AI Keratoconus diagnosis, IOL optimization, ICL surgery examination, and aberration analysis. With the increasing interest in assessing dynamic factors such as changes in iris area or volume as only static factors were focused on before, MediWorks's Scansys TA517 must play an important role in further diagnosis.